It's been so long since I wrote one of these, I don't even know where to begin. He's changed so much since his first birthday. Our tiny little baby has been replaced with a giant, walking, talking, long-legged, climbing little man.
It's hard to believe he wasn't even walking last time I wrote one of these, especially as I watch him run full speed across the house. He's faster than I am, and so athletic. Everyone joked that he'd be an athlete — Tony's dad used to play football. The older he gets, the more apparent it is that it's no joke. He's incredibly coordinated, his balance is unreal for his age, and he's fast. It's crazy how naturally this stuff comes to him.
Last week we started toddler gymnastics, so I'm hoping he can channel some of that energy and natural athletic ability into something positive instead of, you know, trying to dive head first from as many high places as he can climb.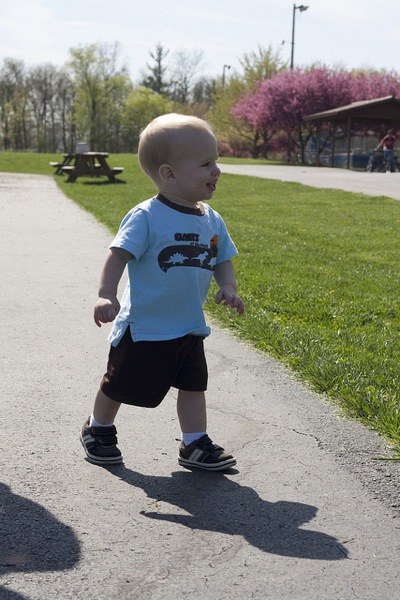 I was personally voted least athletic a number of times in school due to my incredibly poor coordination and total cluelessness when it comes to the rules of sports (I hit a ball once while playing softball, and I was so excited that I turned and ran straight to third base. It took 5 years and a 250-mile move across the state to college before I lived it down.) Despite the athletic genes in his family, Tony always preferred to have his nose in a book. We are understandably terrified of our naturally athletic child.
And the climbing. Oh my goodness, the climbing. I turn my back for a second, and when I turn around, he's 5 feet off the ground. There's a mini rock climbing wall at the gym that older kids struggle to climb, and Judah tackled the thing at 16 months.
He's becoming more verbal every day, but his receptive language skills are crazy. Around 12 months, he started pointing to pictures when we named things and fetching items from all over the house when we asked him for them. Now when we look through his books, he'll point out just about anything I ask him about, especially all of his favorite Sesame Street characters.
At the end of March, he finally lost the rather unsightly baby mullet after his first haircut. Here I am distracting him with YouTube videos of Ernie on my phone.
His favorite words: Demanding "more!" of his favorite foods (right now it's applesauce, Goldfish crackers, milk, pears, and pancakes); excitedly shrieking, "THERE IT IS!" when he recognizes something or someone; mooing like a cow; telling everyone night night or bye bye depending on the occasion; and saying "DIS!" when he sees something he wants.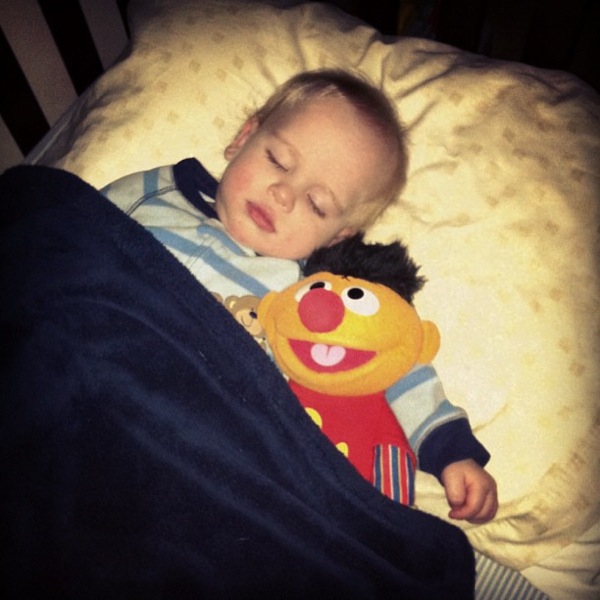 There's very little he doesn't understand when I talk to him, and he follows instructions well — if he wants to. That's a big if these days, though. The tantrums, you guys. The tantrums. I don't think it's cute to say "my toddler runs the house," but I would be lying to you if I said we always win. In fact, at this point, we lose most of the battles. I depend so much on logic and reason, and obviously, Judah is a walking, screaming, fit-throwing embodiment of the Freudian id. There is no reasoning with him. We're working with him, though, and hoping that someday, with persistence and maturity, we'll learn to overpower his Herculean will.
The audacity of toddlerhood is what shocks me the most. The blinds in the living room (which he can reach from the couch) are a huge point of contention. He knows he's not allowed to play with them, so he'll climb onto the couch right in front of me, grin and shake his head "no," and then reach out and touch them gingerly with a single finger. As if to say, "I know I'm breaking the rules, but I don't care."
He is obsessed with climbing the kitchen chairs and getting on the table, and we pretty much had to move the chairs out of the dining room to keep him off of them because he will. not. listen. I guess I expected him to run around and disregard the rules, but I didn't expect him to get so much joy out of throwing them in my face at such a young age. Pfft.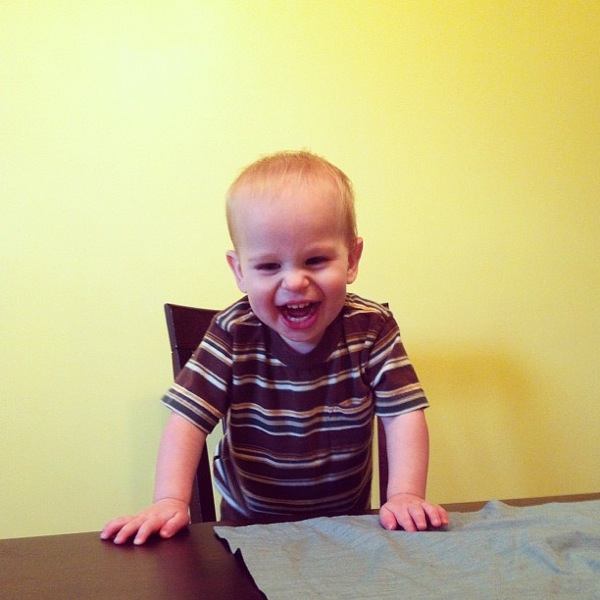 He's slowly starting to respond to time outs, though, and most of the time the threat of a time out is enough to slow him down. Otherwise, into the crib he goes for a few minutes to cool off.
He loves crayons and stickers. He thinks his own reflection is hysterical. He is probably Sesame Street's biggest fan, and sleeps with his stuffed Ernie, Elmo, and Cookie Monster every night. He loves pretending to help with chores by following me around the house with the broom when I'm cleaning or pushing his toy lawn mower around the yard while Tony mows.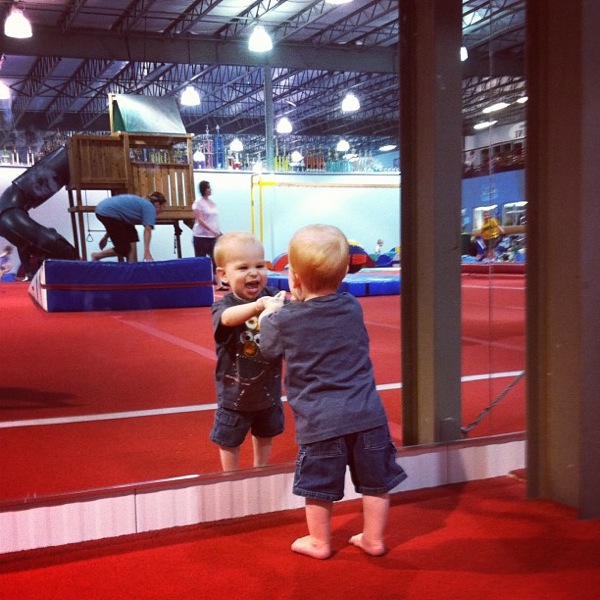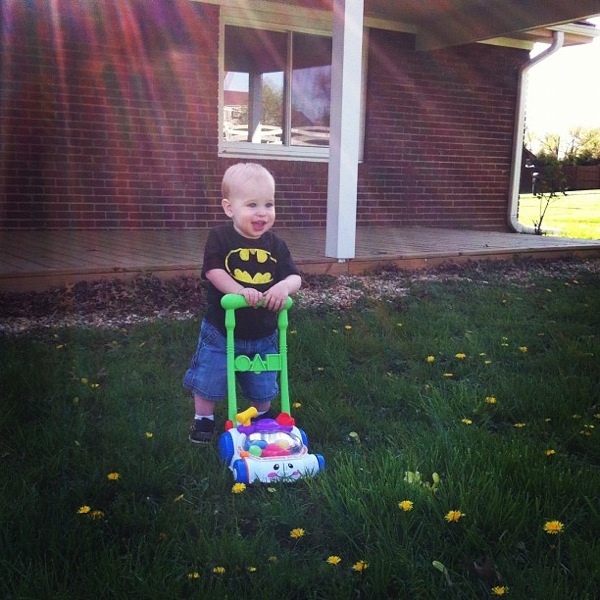 I complain a lot about this age. I do. It's not that he isn't fun. He is hilarious and bright. He's an active, curious kid, which I know are good things. But he's also stubborn and willful and determined to injure himself. I'm more exhausted at the end of the day than I've ever been. There are times — usually in the middle of an extreme temper tantrum — when my stomach flip flops at the thought of doing this all over again someday with another child. Sometimes I feel crazy for even considering it.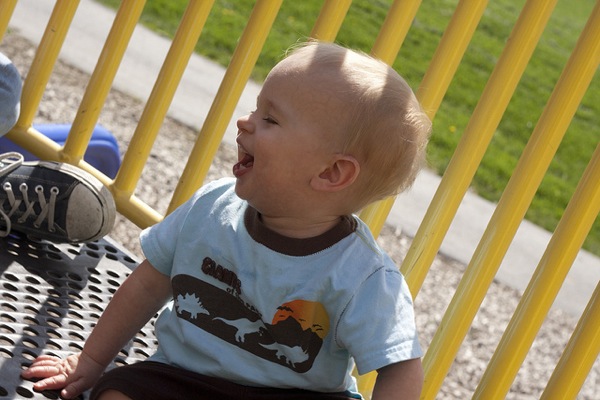 But then he comes running full speed across a room, wraps his arms around my legs, and grins up at me. Or he crawls into my lap to give me a hug. Or he finds his reflection in the bathtub faucet and starts to play peek-a-boo with himself. Or he carries his toy tools out into the living room while Tony is hanging a picture frame and starts hammering away proudly next to his dad. Or he brings me a pillow and his Ernie doll and kisses me goodnight when I lie down on the couch.
He makes us laugh about a million times a day, and when I think about all of those wonderful things about this age, the idea of another baby doesn't seem so crazy. In fact, it starts to make a lot of sense.
I just wish I could put my order in now for a nice, subdued, obedient child. If we survive toddlerhood with Judah, I think I'll have earned it.